Long-Term Traffic Control Device Rentals
Need traffic control and safety devices for a long-term job or construction site?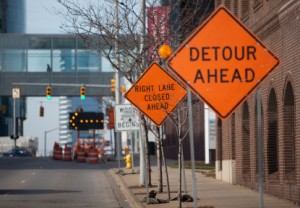 Why purchase new traffic control devices only to use them once or twice, especially if there's nowhere to store it all when the job's finished? We make it easy by renting, delivering, and even installing traffic control and safety equipment, right to your jobsite.
Here are some of the MUTCD-approved and NCHRP 350-compliant traffic control devices that we offer:
Retro-reflective warning signs
Custom-built sign stands for long-term use
Folding sign stands
Traffic cones
Safety barrels & drums
Barricades (Type I, II, & III)
Water-filled barriers
Concrete barriers
Solar-powered arrow boards
VMS message boards
And more (just ask)
We can even handle the plans and permits.
Cost-effective. Convenient. Worry-free.
We are your local, DC metro area Permit Expeditor & Traffic Control / Traffic Safety experts. We provide real solutions, custom-tailored to your individual needs, from residential/commercial building permits, to traffic control and traffic control plan design.
Based in Washington, DC, we have easy access to, and familiarity with, various permitting offices and municipalities in: Washington, DC; Arlington County, VA; Fairfax County, VA; City of Fairfax, VA; City of Alexandria, VA; City of Falls Church, VA; Montgomery County, MD; City of Rockville, MD; Prince George's County, MD; and surrounding areas.
Copyright © 2019 ACCUPERMIT, LLC. All Rights Reserved.
4400 Sheriff Rd NE, Washington, DC 20019
ACCUPERMIT™ and the ACCUPERMIT logo are the trademarks of ACCUPERMIT, LLC.