Traffic Control (MOT) Plan Design
Don't need us to expedite your permit but need a certified Traffic Control Plan (TCP)?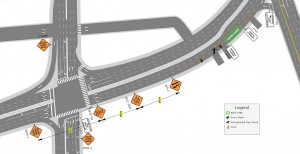 We do TCPs, also commonly known as Maintenance-of-Traffic (MOT) Plans. Our Traffic Control Plan Design Specialist will work with our Traffic Control Technician to create plans to your specifications. If necessary, our Traffic Control Technician can even approve and stamp off on your plan for permit application submission.
Although we specialize in plans for the District of Columbia, Maryland, and Virginia, we can design traffic control plans for just about any area in the US - just ask!
To top it off, our prices are very competitive. And when combined with a public space or right-of-way permit expediting, we offer our TCP/MOT plan design FREE of charge.
Using specialized software, we can easily provide you with:
Quick-turn 'typicals'
Custom designs
Additional plan types

Overview map
Satellite image overlay
GIS overlay
Street view with worksite
All of the above are designed in accordance with the most recent version of the proper federal and local regulations and guidelines for traffic control, traffic safety, and temporary work zones such as:
Federal Highway Administration (FHWA): Manual on Uniform Traffic Control Devices (MUTCD)
DC Department of Transportation (DDOT) and DC Department of Public Works (DPW) standards and regulations
Maryland MUTCD
Maryland State Highway Administration (SHA)
Virginia state supplement to national MUTCD
Virginia Department of Transportation (VDOT)
We are your local, DC metro area Permit Expeditor & Traffic Control / Traffic Safety experts. We provide real solutions, custom-tailored to your individual needs, from residential/commercial building permits, to traffic control and traffic control plan design.
Based in Washington, DC, we have easy access to, and familiarity with, various permitting offices and municipalities in: Washington, DC; Arlington County, VA; Fairfax County, VA; City of Fairfax, VA; City of Alexandria, VA; City of Falls Church, VA; Montgomery County, MD; City of Rockville, MD; Prince George's County, MD; and surrounding areas.
Copyright © 2019 ACCUPERMIT, LLC. All Rights Reserved.
4400 Sheriff Rd NE, Washington, DC 20019
ACCUPERMIT™ and the ACCUPERMIT logo are the trademarks of ACCUPERMIT, LLC.